Trump Marks 75th Anniversary of D-Day in Normandy, France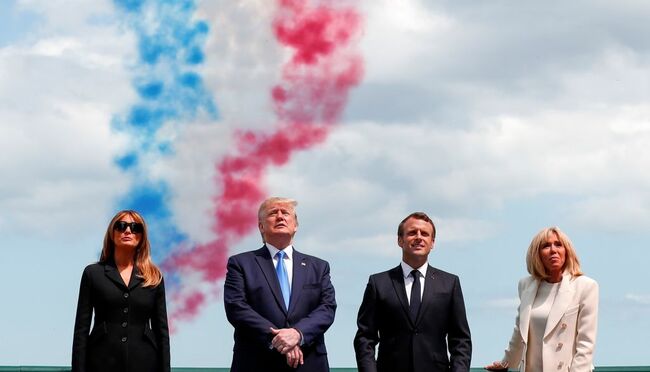 On the 75th anniversary of the D-Day invasion, President Donald Trump praised the contributions of the brave Allied troops who helped turn the tide of World War II in a reverential address held mere feet from Omaha Beach and the cemetery where more than 9,000 American military dead were buried.
"We are gathered here on Freedom's Altar. On these shores, on these bluffs, on this day 75 years ago, 10,000 men shed their blood, and thousands sacrificed their lives, for their brothers, for their countries, and for the survival of liberty," Trump said.
"Today, we remember those who fell, and we honor all who fought right here in Normandy. They won back this ground for civilization."
Addressing 170 veterans from World War II, Trump told them that they were among "the very greatest Americans who will ever live."
"You're the pride of our nation. You are the glory of our republic. And we thank you from the bottom of our hearts," Trump said to applause.
Trump and first lady Melania Trump were joined by other leaders from Britain, France, Canada and Germany to mark the 75th anniversary of the Allied invasion of Western Europe. French President Emanuel Macron offered his country's thanks for the sacrifices for the allied troops who helped liberate their country.
"France has not forgotten those fighters to whom we owe the right to live in freedom," Macron told the audience.
The D-Day invasion, the largest force ever assembled in history, was made up of hundreds of thousands of American, British, Canadian and other countries soldiers in an battle that laid the groundwork for the Allied victory. More than 13,000 aircraft and 5,000 ships supported the operation. An estimated 10,000 Allied troops were killed or wounded during the invasion. The Allied failed to achieve their goals on the first day of the invasion, but it was enough for troops to establish a foothold that led to the defeat of Nazi Germany and their stranglehold on northwestern Europe.
"To all of our friends and partners – our cherished alliance was forged in the heat of battle, tested in the trials of war, and proven in the blessings of peace," Trump said. "Our bond is unbreakable."